AQ-200 series power supply connection
AQ-200 series IEDs have two different types of voltage supplies available.

Type H = 80...265 VAC / VDC

Type L = 18...72 VDC

The power supply type is indicated in the hardware configuration. The type can be checked from the serial number sticker or from the General menu of the aqs configuration.


Depending on which type of power supply AQ-200 IED has connect the voltage to connectors 19 and 20.

20 is positive connector, 19 is negative. Grounding connector is below terminal connector.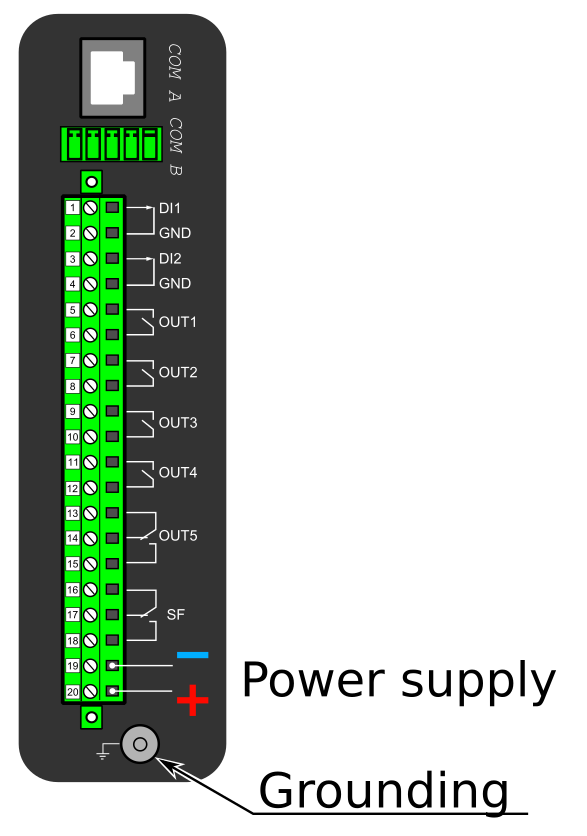 Related Articles

AQ-300 series relays protection and communication separation on CPUs

AQ-300 series units have one CPU module with two processors on the PCB: RDSP, which is responsible for the sampling and for the protection, automation and control functions CDSP, which is responsible for the communication. In special cases there can ...

Load report file from the AQ-300 IED for faster technical support

In case of having technical issues with AQ-300 series IED it is advised to load a "report file" from the relay to help Arcteq Relays to determine the cause for the issue faster. The report file may contain information valuable for the manufacturer. ...

Upgrading AQ-200 series IED firmware

Firmware file is a zipped file and is labelled in following style e.g. like this (v1.0.1-97-g14e806f.zip). The firmware file appears to be a zip file but DON'T UNZIP this file updating, AQtivate setting and configuration tool does this automatically ...

Adding monitoring and communication to AQ-1xx series arc protection system

Background The protective devices based on arc light sensors were first introduced in early eighties more than 30 years ago. Modern arc flash protection systems contain full self-supervision capabilities in order to provide highest level of ...

Modbus communication in AQ-200 series IEDs

AQ-200 series devices can communicate using both Modbus RTU serial protocol and Modbus TCP protocol. Same data can be accessed using both these protocols. To use Modbus TCP it can be activated with parameter Modbus TCP enable in menu Communication à ...